Top 10 Spring and Summer Flowering Bulbs
Summer flowering bulbs are a great, low maintenance way to make the garden stand out in the heat of summer.
Many bulbs can be planted in late autumn or early spring so that gardeners have gorgeous summer flowers. They range from small and simple to large and complex, and come in all sorts of colors.
Best of all, once planted, bulbs need very little additional maintenance. This list identifies a list of options for our area, Zone 7.
10-Bearded Iris (Iris germanica):
The bearded Iris is a a large and in-charge addition to the garden space. With its sturdy foliage and its sweet aroma, it is sure to cause all those who tour your garden to stop and admire its beauty in spring. Plant in groups of  three or five to provide the biggest impact.
9-Begonias (Begoniaceae):
Begonias are a gorgeous addition to any garden. They look great in pots where they can be the main focal point. Their foliage is a great accent to its flowers, which come in smooth and ruffled
varieties. These bulbs are not cold hardy, so the gardener will probably have to dig these bulbs up and store them somewhere cool until next spring. All that work is worth it. Or treat as an annual and simply discard and start over next year.
8-Dahlia (Dahlia pinnata)
Dahlias are beautiful and elegant. They can give a pop of color into smaller spaces. Dig up the tubers and store in a dry, cool place, and replant the next spring.
7-Tulip (Tulipa)
Tulips are a classic flower. These  flowers provide an old world beauty and are great as a border or planted en masse.  Tulips come in a number of different species and are lovely in cut-flower arrangements.
They're a great way to add color to the garden without breaking the bank, as they are inexpensive, and many reliably bloom year after year.
6-Cannas (Canna indica)
Cannas have ornate, super intensely-colored  flowers and paddle-shaped leaves. They bring a tropical feeling to the garden. They grow flower spikes with 4-5 flowers on the end and are easily seen from a distance. Add
these to the garden for a spicy pop of color.
5-Gladiolus (Gladiolus oppositiflorus)
While these are not technically bulbs (the proper word for them is a corm),  these flowers bring impact to anywhere they're planted. Gladiolus grow long flower spikes that have many blooms. They come in a large assortment of colors.
They provide the most impact when planted toward the rear of the gardening area as they give height and color to the space.
4-Globemaster Allium (Amaryllidaceae)
These flowers are a sight to behold. Alliums look like lollipops and have a large, ball-shaped flower that is situated on a long stem.
They provide a whimsical feel to the garden when planted in pockets, or they can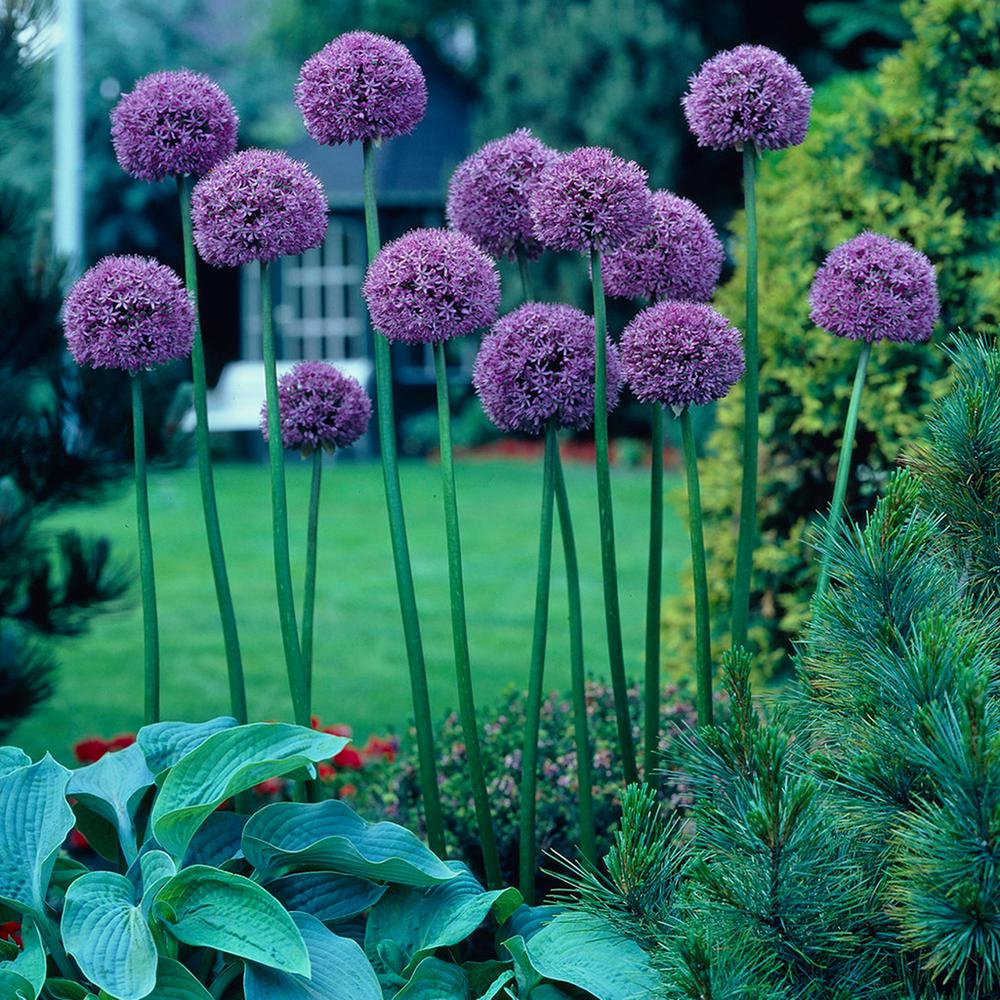 provide a formal feel when planted inside a boxwood hedge.
3–Ranunculus (Ranunculus eschscholtzii)
These plants are compact and charming in the garden. They are great for pots and landscape as a filler and ground cover. The blooms are papery and provide a delicate feel. They come in a variety of colors and sizes. 
They are also a great cut flower as they last longer than other varieties.
2-Asiatic Lilies (Lilium auratum)
For an exotic touch, asiatic lilies are a great choice.  These plants have a single stem that hold five to six large flowers. They grow from a large bulb and are best planted together in large swathes.These
are great in containers.
1-Lily of the Valley (Convallaria majalis)
Lily of the Valley is a dainty plant. They provide a great show when planted en masses. These cuties can spread like wildfire, so plan accordingly.  They have bell-shaped flowers and they have a light, subtle smell that covers the entire planting area. Lily of the Valley are also beautiful in pots for a more contained planting.