Chatham Beats Appomattox
Chatham varsity baseball defeated Appomattox 3-2.
Alex Van Pelt, junior, pitched for seven innings with four hits, one run, and ten strike-outs.
Jake Moore, senior, hit 1-4 (one out of four at bat) with a double (ran two bases).
Carrington Aaron, senior, hit 1-3 with a double and one RBI (runs batted in).
Zander Cornell, junior, hit 1-2 with one RBI.
"The game was amazing. The team played really well. My favorite part was when Z [Zander Cornell] hit the go-ahead run," said Moore.
"Alex Van Pelt competed very well on the mound and our hitters competed out on the plate," said assistant head coach, Chase Hall.
"We played well as a team and we won. My favorite part was knowing my girlfriend was watching me," said Aaron.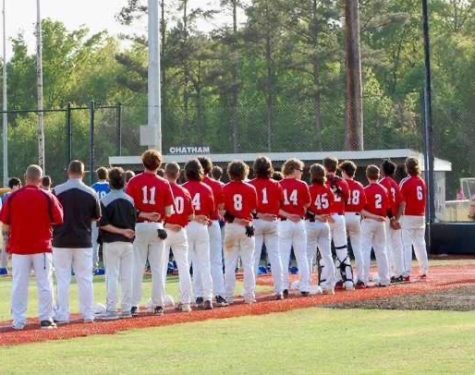 "I always enjoy playing with my team. It was cold outside but we pushed through and won," said Cornell.
My team persevered through the cold and fought hard on the field. We kept the energy up and I was proud," said Kendell Sanders, senior.
"I thought we played really well during the game. Hopefully we will continue to get better as we progress in the season," said head coach, Chad Anderson.